During the period from 23 to 27 of April, 2014 specialized educational session was carried out by the Assembly of Tourists Volunteers together with Moscow Volunteer Tourist Center, supported by the State Committee for Tourism of the Republic of Tatarstan, based on the "Volga" Youth Center (Kazan city). Tourist volunteers from Kazan, Moscow and Vologda took part in this session.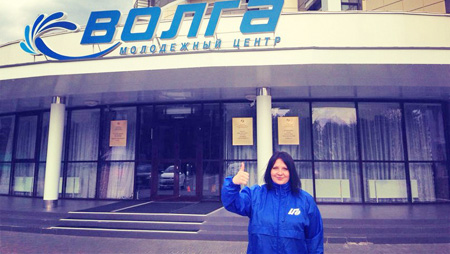 Alena Efremova, 4-year student of the Russian International Academy for Tourism was representing the Academy at the session. In the framework of the session lectures and training classes conducted by tourism specialists were held. Volunteers presented their regions. Meeting of volunteers gave new impetus to inter-regional communication. Participants exchanged new technologies of work with tourists, new projects, and ideas. This meeting which has already become a traditional one, proved to be efficient and productive. Three volunteer centers created the Rustourvolunteer community which will become the experimental platform for youth projects in tourism and voluntary work.
We are grateful to the State Committee for Tourism of the Republic of Tatarstan for the opportunity to organize and hold such a meeting on republican youth platform.